Wydawnictwa: Svartsyn - The True Legend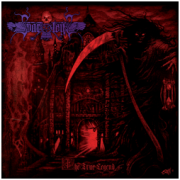 Artysta:
Svartsyn
Tytuł:
The True Legend
Numer katalogowy:
ARcd089
Format:
CD
Gatunek:
Black Metal
Kraj:
Sweden
Data wydania:
2012 re-release
Dostepność:
Zamów tutaj
Debiutancki album SVARTSYN wydany po latach niedostępniści. Zremasterowany i re-mixowany. Część gitar i wokale zostały nagrane powonie.
Album wydany z nową okładką autorstwa Chadwick'a st John. W środku znajduja się teksty i niepublikowane zdjęcia z okresu The True Legend.
CD już dostępny.