Wydawnictwa: King Parrot - Ugly Produce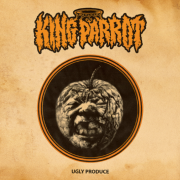 Artysta:
King Parrot
Tytuł:
Ugly Produce
Numer katalogowy:
ARcd171
Format:
digipack CD
Gatunek:
Thrash Metal/Grindcore
Kraj:
Australia
Data wydania:
2017
Dostepność:
Zamów tutaj
Digipack CD.
Thrash/grind metalowcy KING PARROT wypuszczą nowy album "Ugly Produce" 22 września nakładem Agonia Records. Na płycie znajdzie się 10 nowych utworów wykonanych w charakterystycznym dla zespołu stylu, łączącym thrash metal z elementami grindcoru, hardcoru oraz punk rocka. Płyta została nagrana i zmiksowana przez Jasona PC (Blood Duster) w Goatsound Studio w Australii. Mastering odbył się pod okiem Brada Boatwright w Audiosiege Studio (Sleep, High On Fire, Nails) w USA. Okładkę przygotowali Boyd Synnot i Simon Robins z GraphORlock.  

Jak komentuje zespół: "Ugly Produce to nowy wymiar w komponowaniu zgryźliwych utworów. To odrażające połączenie wstrętnego grindu, death metalu, thrash metalu i punk rocka, bardziej cierpkie niż kiedykolwiek". 

Pomimo niewielu lat na scenie KING PARROT może się pochwalić olbrzymim doświadczeniem scenicznym i trasami koncertowymi u boku Soulfly, Obituary, Down, Cattle Decapitation, Exodus czy Voivod. Niedawno zespół ogłosił amerykańską trasę u boku Superjoint i Devildriver, a niedługo powróci również do Europy.
Lista utworów:
1. Entrapment
2. Piss Wreck
3. Disgrace Yourself
4. All Hail The Grub
5. Ten Pounds of Shit in a Five Pound Bag
6. Scattered
7. Now it Stokes Frenzy
8. Numb Skull
9. Die Before You Die
10. Spookin' The Animals