Wydawnictwa: Endezzma - Erotik Nekrosis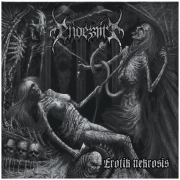 Artysta:
Endezzma
Tytuł:
Erotik Nekrosis
Numer katalogowy:
ARcd079
Format:
digipack CD
Gatunek:
Black Metal
Kraj:
Norway
Data wydania:
2012
Dostepność:
Zamów tutaj
Na debiutancki krążek grupy złoży się siedem utworów. W nagraniach Erotik Nekrosis wzięli udział Morten Shax (wokal), Trondr Nefas (zmarły 12. Maja 2012 roku / Urgehal, Beastcraft, Angst Skvadron, Vulture Lord) (gitara), Mattis Malphas (Beastcraft) (gitara), Sregroth (Urgehal, Åsmegin) (bass) oraz Carl Balam (Nattefrost, Astaroth, ex Infernal) (perkusja).  Materiał został nagrany w Slaughterhaus Studio w Oslo i wyprodukowany przez Roberta Blixa. Za okładkę odpowiada Kazachski artysta Alexandr Balinets.  Lista utworów Erotik Nekrosis:

1) Junkyard Oblivion
2) Enigma of the Sullen
3) Against Them All
4) Swansong of a Giant
5) Hollow
6) Krossing the Rubikon
7) Soulcleansing
 Elegancki digipack CD z 16 stronicową książeczką limitowany do 1. tłoczenia.