Wydawnictwa: Varathron - The Confessional of the Black Penitents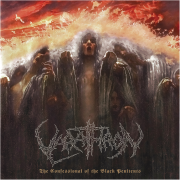 Artysta:
Varathron
Tytuł:
The Confessional of the Black Penitents
Numer katalogowy:
ARmcd018
Format:
ekopak CD
Gatunek:
Black Metal
Kraj:
Greece
Data wydania:
2015
Dostepność:
Zamów tutaj
Limitowany do 1000 numerowanych sztuk ekopak CD.

Na epce znajdą się trzy zupełnie nowe utwory oraz cztery kawałki nagrane na żywo. Łączny czas epki to ponad 40 minut. Utwory koncertowe zostały zarejestrowane w Larisie (Grecja), 16 maja 2015. Za ich mastering i miks odpowiada Achilleas Kalantzis (gitary). Utwory 2 i 3 zostały nagrane i zmiksowane w Infinite Loop Music Studio (Grecja), a zmasterowane w Norwegii przez Tom'a Kvålsvoll w Strype Studio (1349, Arcturus, Darkthrone, Emperor, Code, Ulver).

Okładka oraz layout prezentują obrazy Carlos'a Schwebe (21.07, 1866 - 22.01, 1926); niemiecko-szwajcarskiego malarza symbolisty.

Tak zespół mówi o nowej epce: Wczesne albumy VARATHRON są uznawane za kamienie milowe hellenistycznego odłamu black metalu, razem z nagraniami Necromantia oraz Rottig Christ. Z tą ostatnią grupa dzieliła muzyków oraz podobny styl. Obecnie znakiem rozpoznawczym VARATHRON są riffy utrzymane w średnim tempie, splecione klasycznym i lekko progresywnym stylem, a także charakterystyczna, epicka atmosfera. Zespół istnieje od 1988 roku.

Tracklist:
01. The Confessional Of The Black Penitents
02. Sinister Recollections
03. Utter Blackness
04. Unholy Funeral* 
05. Cassiopeia's Ode* 
06. Descent Of A Prophetic Vision* 
07. Kabalistic Invocation Of Solomon*
* nagranie koncertowe