Wydawnictwa: Shibalba - Psychostasis - Death Of Khat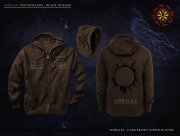 Artysta:
Shibalba
Tytuł:
Psychostasis - Death Of Khat
Numer katalogowy:
ARhsw025
Format:
hooded sweatshirt with zipper
Gatunek:
trance/ambient/shamanic
Kraj:
Greece
Data wydania:
2017
Limitowana rozpinana gruba bluza z kapturem z nadrukiem z przodu, z tyłu oraz na jednej stronie kaptura + kod do pobrania albumu w wersji cyfrowej.

Wymiary bluz są dostępne tutaj.
Długo wyczekiwany nowy album! SHIBALBA to Acherontas V.Priest (Acherontas), Karl NE/Nachzehrer (Nåstrond) oraz Aldra-Al-Melekh. Nagrania ich najnowszej płytymiały miejsce w Grecji oraz w Szwecji. Całość została zarejestrowana w formie analogowej, zachowując bardzo wysokie standardy rejestracji dźwięku. Okładkę krążka przygotował Karl NE.

Muzyka SHIBALBY jest przesiąknięta wschodnim mistycyzmem. Cechuje ją przywiązanie do szczegółu, wielowymiarowość oraz elementy charakterystyczne dla szeroko pojętej, tradycyjnej muzyki rytualnej i szamańskiej. Towarzyszą jej intonacje oraz szepty. Poza syntezatorami i gitarowymi dronami, zespół korzysta z takich instrumentów jak tybetańskie rogi, tybetańskie misy dźwiękowe, darbuki (bębny kielichowe), ceremonialne gongi i dzwony oraz originalne rytualne trąbki wykonane z rogów i kości.
Lista utworów:
1. Phychostasis-Death of Khat
2. Ihag Mthong
3. Kaoshikii Mahayana
4. Aether Ananda Aiwass
5. Naljorpa
6. Reanimation of Akh
7. Five Points of Desire
8. Orgasmic Inebriation
9. Opening the shadow box
10. Svarna Khecari Mudra