Wydawnictwa: VI - De Praestigiis Angelorum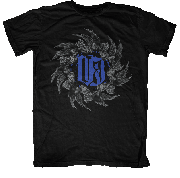 Artysta:
VI
Tytuł:
De Praestigiis Angelorum
Numer katalogowy:
ARts138
Format:
T-shirt + digital download
Gatunek:
Black Metal
Kraj:
France
Data wydania:
2015
Koszulka value weight Fruit of the Loom z duzymi nadrukami z przodu + kod do pobrania albumu w wersji cyfrowej.

Wymiary koszulki są dostępne tutaj.
Francuska Black Metalowa formacja składająca się z byłych i obecnych muzyków Aosoth i Antaeus. Black Metal rekomendowany dla fanów Deathspell Omega, Funeral Mist, Aosoth, Ascension, Svartidaudi, Antaeus. Materiał zarejestrowano, zmiksowano i zmasterowano w BST Studio (Antaeus, Hell Militia, Aosoth, Vorkreist). Oprawa graficzną zajął się Alexander L. Brown (Leviathan, Stargazer, Bölzer, Darkthrone).

- INVRI (Aosoth, ex-Antaeus): gitara i wokale.
- BST (Aosoth, ex-Antaeus, ex-Aborted) bas.
- Blastum (ex-Aosoth, ex-Antaeus, Merrimack) perkusja.
TRACKLIST:
1. Et in pulverem mortis deduxisti me.
2. Par le jugement causé par ses poisons.
3. La terre ne cessera de se consumer.
4. Regarde tes cadavres car il ne te permettra pas qu'on les enterre.
5. Une place parmi les morts.
6. Voilà l'homme qui ne te prenait pas comme Seigneur.
7. Il est trop tard pour rendre gloire. Ainsi la lumière sera changée en ombre de la mort.
8. Plus aucun membre ne sera rendu.