Wydawnictwa: Shadows - Shadows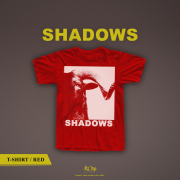 Artysta:
Shadows
Tytuł:
Shadows
Numer katalogowy:
ARts281
Format:
T-shirt, red
Gatunek:
Dark Avant Garde Metal/Rock
Kraj:
U.S.A.
Data wydania:
2021
Czerwona oszulka marki Fruit of the Loom Valueweight z dużym białym nadrukiem z przodu i z kodem do pobrania albumu w wersji cyfrowej.
Wymiary koszulki są dostępne tutaj.
Debiutancki mini album. Zespół muzyków między innymi Immolation i Goreaphobia wykonujący dark avatngarde metal, któremu nie brak klasycznych inspiracji Pink Floyd, Celtic Frost, Sisters of Mercy, Black Sabbath, Mercyful Fate czy Voivod. Materiał został zmiksowany i zmasterowany przez Tore Stjerna w znanym Necromorbus Studio.
Skład: Alex Bouks, Henny Piotrowski, Jake G. and Lance Walter.
Lista utworów:
1. Ghost of Old
2. Shadows
3. Night of the Goat Winter Moon
4. Elders
5. Sea of Dust
6. Ancient Eyes