Wydawnictwa: October Tide - Winged Waltz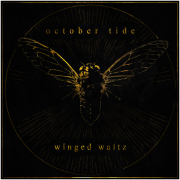 Artysta:
October Tide
Tytuł:
Winged Waltz
Numer katalogowy:
set124
Format:
CD + T-shirt bundle
Gatunek:
Doom/Death Metal
Kraj:
Sweden
Data wydania:
2016
Digipak CD + ekskluzywna koszulka.

Wymiary koszulki są dostępne tutaj.
OCTOBER TIDE został założony w 1995 przez muzyków Katatonii - Jonas'a Renske i Fred'a Norrman'a. Po wydaniu dwóch, obecnie kultowych krążków: "Rain Without End" (1997) oraz "Grey Dawn" (1999), zespół przestał istnieć.. W 2009, po jedenastoletniej przerwie, Szwedzi wznowili działalność z zamiarem wzniesienia swojej wizji melodyjnego doom/death metalu na kolejny poziom. Od 2015 perkusistą grupy jest Jocke Wallgren (Valkyrja, Astrophobos). Nadchodzący album "Winged Waltz" będzie piątym w karierze zespołu. Poprzedza go "The Tunnel Of No Light", wydany w 2013 roku.
Tak o albumie wypowiada się wokalista, Alexander Högbom: "Jest to bez wątpienia nasz najlepszy i najbardziej emocjonalny materiał. Wiem, jak wiele ciężkiej pracy Fredrik (gitary) włożył w jego powstanie. Nagrania były bardzo intensywne. Dałem z siebie wszystko, tak aby dopasować wokal do intensywności muzyki i siły tekstów. Jestem bardzo zadowolony z rezultatu".

Krążek został zarejestrowany w Wing Studios (Demonical, Diabolical, Centinex) w Szwecji. Za jego produkcję odpowiada Sverker Widgren.
Lista utworów:
1. Swarm
2. Sleepless sun 
3. Reckless abandon
4. A questioin ignite
5. Nursed by the cold 
6. Lost in rapture 
7. Perilous 
8. Coffins of November