Wydawnictwa: VI - De Praestigiis Angelorum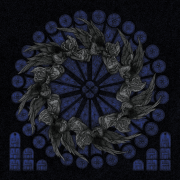 Artysta:
VI
Tytuł:
De Praestigiis Angelorum
Numer katalogowy:
set119
Format:
CD + T-shirt bundle
Gatunek:
Black Metal
Kraj:
France
Data wydania:
2015
Digipak CD + koszulka.
Wymiary koszulki są dostępne tutaj.
VI is a French black metal trinity, made of current and ex-members of Aosoth and Antaeus. Their debut full-length album, "De Praestgiis Angelorum", bestirs within the characteristic black metal niche developed by the said bands, with the addition of expanded guitar work, choirs and subtle sample parts. VI describes their music as "extreme, devoted black metal with illuminated chaos".

- Featuring INVRI (Aosoth, ex-Antaeus) on guitars and vocals.
- Featuring BST (Aosoth, ex-Antaeus, ex-Aborted) on bass.
- Featuring Blastum (ex-Aosoth, ex-Antaeus, Merrimack) on drums.
- Recorded, mixed and mastered in BST Studio (Antaeus, Hell Militia, Aosoth, Vorkreist).
- Cover artwork by Alexander L. Brown (Leviathan, Stargazer, Bölzer, Darkthrone).
- For fans of for fans of Deathspell Omega, Funeral Mist, Aosoth, Ascension, Svartidaudi, Antaeus.
TRACKLIST:
1. Et in pulverem mortis deduxisti me.
2. Par le jugement causé par ses poisons.
3. La terre ne cessera de se consumer.
4. Regarde tes cadavres car il ne te permettra pas qu'on les enterre.
5. Une place parmi les morts.
6. Voilà l'homme qui ne te prenait pas comme Seigneur.
7. Il est trop tard pour rendre gloire. Ainsi la lumière sera changée en ombre de la mort.
8. Plus aucun membre ne sera rendu.