Wydawnictwa: Azarath - In Extremis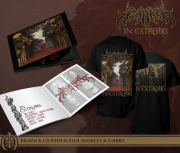 Artysta:
Azarath
Tytuł:
In Extremis
Numer katalogowy:
set146
Format:
CD + T-shirt (model I) bundle
Gatunek:
Death Metal
Kraj:
Poland
Data wydania:
2017
Ekskluzywny digipack CD z 36. stronicową książeczką + koszulka.

Najnowszy studyjny album AZARATH!
Koszulka marki Fruit of the Loom Valueweight z ekskluzywnym projektem i dużymi, kolorowymi nadrukami z tyłu i z przodu.
Wymiary koszulki są dostępne tutaj.
Lista utworów:
1. The Triumph of Ascending Majesty
2. Let My Blood Become His Flesh
3. Annihilation
4. The Slain God
5. At The Gates of Understanding
6. Parasu Blade
7. Sign of Apophis
8. Into The Nameless Night
9. Venomous Tears (Mourn of the Unholy Mother...)
10. Death