Wydawnictwa: Antarktis - Ildlaante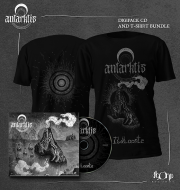 Artysta:
Antarktis
Tytuł:
Ildlaante
Numer katalogowy:
set170
Format:
digipack Cd + T-shirt bundle
Gatunek:
Metal/Post-Rock
Kraj:
Sweden
Data wydania:
2017
Digipack CD + koszulka.
Wymiary koszulki są dostępne tutaj.
Debiutancki album Szwedów z ANTARKTIS zatytulowany "Ildlaante" ukaże się 6 października. 
W skład ANTARKTIS wchodzą dwaj gitaryzści In Mourning, Björn Pettersson oraz Tobias Netzell (ex-October Tide). Towarzyszą im Daniel Jansson (Ikhon) na wokalu i basie oraz perkusista Jonas Martinsson (Me The Tiger, Necrosavant), którzy dołączyli do składu w 2013 roku.
Album został nagrany pomiędzy wrześniem 2016 i lutym 2017 w trzech różnych studiach w Szwecji. Perkusja z Alexandrem Backlund'em i Sebastianem Svalland'em w Nailvillage Studio. Gitary, bass, wokal oraz klawisze w Studio Libra, a dodatkowe wokale w Ikhon IQ. Za miks i mastering odpowiada Karl Daniel Lidén (Breach, Terra Tenebrosa, The Old Wind). Okładka została wykonana przez Emy Rojas z Arrache-toi Un Oeil (Converge, Sunn O))) and Clutch).


Utwory:
1. Aurora
2. Svalbard
3. Notes From Underground
4. Ildlaante
5. Cape Meteor Pt 1
6. Cape Meteor Pt 2