Wydawnictwa: Azarath - Saint Desecration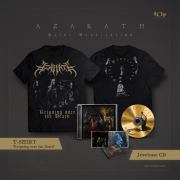 Artysta:
Azarath
Tytuł:
Saint Desecration
Numer katalogowy:
set301
Format:
CD + t-shirt II bundle
Gatunek:
Death/Black Metal
Kraj:
Poland
Data wydania:
2020
Wysokiej jakości koszulka marki Fruit of the Loom Valueweight z dużymi nadrukami + CD, wydanie w pudełku.
Wymiary koszulki są dostępne tutaj.

"Saint Desecration" to siódmy album w karierze AZARATH i trzecie w tym dziesięcioleciu dzieło złożone na ołtarzu poczerniałego death metalu (po "Blasphemers' Maledictions" z 2011 i "In Extremis" z 2017). Płyta stanowi naturalną kontynuacje ścieżki obranej przez zespół ponad dwadzieścia lat temu; z głośników wylewa się soniczny terror przyodziany w prowokacyjne szaty, których krój docenią koneserzy gatunku. 
Album został zarejestrowany i zmiksowany w Tall Pine Records, a za konsolą zasiadł Haldor Grundberg (Satanic Audio). Masteringu dokonał Brad Boatright w  Audiosiege Studio (Portland, USA). Okładkę namalowała Marta Promińska (Hypnagogic Painting). Nowe zdjęcia są autorstwa Aleksandra Ikaniewicza.
AZARATH to zespół, który nie wymaga przedstawienia. Już pierwsze albumy formacji okazały się kluczem do polskiego podziemia i przypieczętowały jego rolę, jako jednego z czołowych reprezentantów rodzimej sceny black/death metalowej. Jego współzałożycielem i perkusistą jest Inferno (Behemoth). Towarzyszą mu gitarzysta Bart (Damnation, Armagedon; w zespole niemal od początku), wieloletni basista Peter (ex-Lost Soul) i nowy wokalista Skullripper (Embrional).
Tracklist:
1. Death-at-Will
2. Sancta Dei Meretrix
3. Let them Burn…
4. Fall of the Blessed
5. No Salvation
6. Profanation
7. Reigning over the Death
8. Life is Death, Death is Life
9. Inflicting Blasphemy upon the Heavens
10. Beyond the Gates of Burning Ghats