Wydawnictwa: Lucifer's Child - The Order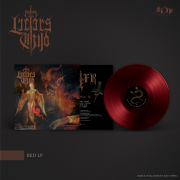 Artysta:
Lucifer's Child
Tytuł:
The Order
Numer katalogowy:
ARLP167RP3
Format:
12"LP (red)
Gatunek:
Black Metal
Kraj:
Greece
Data wydania:
2022 re-press
Dostepność:
Zamów tutaj
Reeducja na limitowanym do 100 ręcznie numerowanych sztuk czerwonym winylu.
Następca "The Wiccan" z 2015 roku powstawał trzy lata. Jego nagrania, miksy i matering odbyły się w Pentagram Studio, należącym do gitarzysty zespołu, Georg'a Emmanuel'a (Rotting Christ, ex-Chaostar). Okładkę przygotował Daniele Valeriani (Dark Funeral, Dissection, Mayhem).

LUCIFER'S CHILD wywodzi się z Aten i gra atmosferyczny black metal. Powstał w 2013 z inicjatywy wspomnianego Emmanuela oraz Stathis'a Ridis'a (basisty kultowej grackiej kapeli, Nightfall). W krótkim czasie do składu dołączyli wokalista Marios Dupont (Karma Violens) i perkusista Nick Vell (Chaostar). Ich debiutancki krążek został ciepło przyjęty, co zaowocowało występami na festiwalach, w tym Inferno Festival (Norwegia), Blastfest (Norwegia) oraz Incineration Festival (Wielkia Brytania). "The Order", jest cięższy i mroczniejszy niż poprzednik.
Utwory:
1. Viva Morte
2. The Order
3. Fall Of The Rebel Angels
4. Through Fire We Burn
5. El Dragón
6. Black Heart
7. Haraya
8. Siste Farvel