Wydawnictwa: Azarath - Blasphemers' Maledictions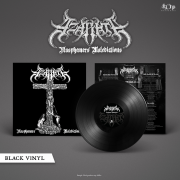 Artysta:
Azarath
Tytuł:
Blasphemers' Maledictions
Numer katalogowy:
ARlp190_V1
Format:
12"LP (black)
Gatunek:
Black/Death Metal
Kraj:
Poland
Data wydania:
2021
Dostepność:
Zamów tutaj
Limitowany do 300 ręcznie numerowanych egzemplarzy czarny winyl + kod do pobrania albumu w wersji cyfrowej.
Reedycja. Wydanie z nowa okładką i z odświeżoną szatą graficzną.
Lista uwtorów:
1. Arising the Black Flame
2. Supreme Reign of Tiamat
3. Crushing Hammer of the Antichrist
4. Firebreath of Blasphemy and Scorn
5. Behold the Satan's Sword
6. Under the Will of the Lord
7. The Abjection
8. Deathstorms Raid the Earth
9. Lucifer's Rising
10. Holy Possession
11. Harvester of Flames
12. Rebel Souls*

*Bonusowy utwór. Cover Damnation.