Wydawnictwa: Thaw - Grains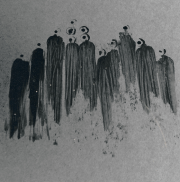 Artysta:
Thaw
Tytuł:
Grains
Numer katalogowy:
ARlp157
Format:
12" black LP
Gatunek:
Black Metal/Ambient/Noise
Kraj:
Poland
Data wydania:
2017
Dostepność:
Zamów tutaj
Limitowany czarny winyl + kod do pobrania albumu w wersji cyfrowej.
Nagrany podczas kilku sesji rozłożonych w różnych okresach, "Grains" to coś więcej niż tylko następny krok w działalności zespołu. Zawierająca pięć kompozycji płyta to dowód na to, że THAW rozwija się w wielu kierunkach naraz. Prócz nieortodoksyjnego podejścia do black metalu i elementów drone, płyta potwierdza zdolność budowania specyficznej narracji. Odchodząc od tradycyjnych struktur, jest dowodem intensywnego rozwoju twórców.

Podobnie jak poprzednie dzieła grupy, "Grains" zostało nagrane i wyprodukowane w Maq Records Studio i Satanic Audio. Gościnny udział Macieja Morusia (Mitch and Mitch, ex-Starzy Singers) oraz Stawrogina (Odraza), a także okładka zaprojektowana przez Sarsa (Furia) sprawiają, że tym bardziej warto czekać na premierę płyty.
Lista utworów:
1. The Brigand
2. The Thief
3. The Cabalist
4. The Harness
5. Wielki Piec