Upcoming releases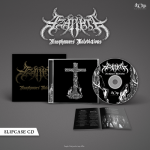 Azarath - Blasphemers' Maledictions
---
Available formats / pre-order:
Re-release of the long-time-out-of-print beast of an album! Comes with rewamped layout and new cover artwork as well as a bonus track (limited to the CD & LP edition).
1. Arising the Black Flame
2. Supreme Reign of Tiamat
3. Crushing Hammer of the Antichrist
4. Firebreath of Blasphemy and Scorn
5. Behold the Satan's Sword
6. Under the Will of the Lord
7. The Abjection
8. Deathstorms Raid the Earth
9. Lucifer's Rising
10. Holy Possession
11. Harvester of Flames
12. Rebel Souls*

*Bonus track. Cover of Damnation.