Upcoming releases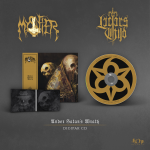 Lucifer's Child / Mystifier - Under Satan's Wrath
---
Available formats / pre-order:
Black metallers LUCIFER'S CHILD and MYSTIFIER have partnered up for a Greco-Brazilian split release on Agonia Records. Put together despite an ocean's distance, "Under Satan's Warth" displays the borderlessness of black metal in the strict sense. The collision of Brazilian occultism & Hellenic blasphemy ensues blistering sonic impressions in a hellish dance of cultures, robed in a gold black garment from Mitchell Nolte (Aborted, Baest).
All MYSTIFIER tracks where recorded and mixed at Usb Studio (rhythm guitars) and Darkside Studio (drums, lead guitars, bass, keyboards and vocals). All LUCIFER'S CHILD tracks where recorded and mixed at Pentagram Studio (Rotting Christ, Septicflesh). The latter mastered the split.
Tracklist:
1. Death Beyond Holy Creation
2. Under Inhumane Evil Spells
3. Worship Her (Samael cover)
4. Satan's Wrath
5. Nova Tenebris
6. Enter The Eternal Fire (Bathory cover)