Wydawnictwa: Centinex - Death in Pieces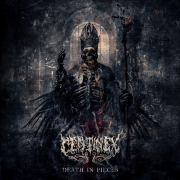 Artysta:
Centinex
Tytuł:
Death in Pieces
Numer katalogowy:
ARcd220
Format:
CD
Gatunek:
Death Metal
Kraj:
Sweden
Data wydania:
2020
Dostepność:
Zamów tutaj
Jewelcase CD.
Szwedzcy klasyczni death metalowcy CENTINEX zapowiedzieli nowy album, "Death In Pieces". Wydawnictwo ukaże się 29 maja nakładem Agonia Records. 
CENTINEX istnieje od 1990. Zespół rozpadł się w 2005, wydając łącznie osiem albumów. W 2014 powrócił na sceną w odświeżonym składzie i z nowym nagraniem, "Redeeming Filth". Niedługo później wydał kolejny album, "Doomsday Rituals" (2016), który pociągnął za sobą występy w Europie i Stanach Zjednoczonych (m.in. na Maryland Deathfest). "Death In Pieces" to trzeci album zespołu po reaktywacji. Krążek cechuje się charakterystyczną dla CENTINEX dominacją riffów, wplecionych w death metal starej Sztokholmskiej szkoły.
Tak nowy album skomentował zespół: "Jesteśmy podekscytowani mogąc wreszcie wydać nowy album! Jak wielu z was pewnie zauważyło, utrzymywaliśmy niski profil w ostatnim czasie. Działo się tak z różnych powodów. W końcu wracamy na obrany wcześniej kurs z bardzo intensywnym i brutalnym dziełem, a także z nowym składem, głodnym death metalu!".
"Death In Pieces" został nagrany przez CENTINEX oraz Johana Hjelm w Wellbay Studios. Miksy i mastering to zasługa Ronnie'ego Bjornstrom'a z Enhanced Audio Productions (Aeon, Bodyfarm, Meshuggah). Okładkę przygotował Bahrull Marta.
Lista utworów:
1. Only Death Remains
2. Derelict Souls
3. God Ends Here
4. Tomb of the Dead
5. Human Torch
6. Pieces
7. Cauterized
8. Beyond the Dark
9. Sacrifice
10. Skin Turning Grey