Wydawnictwa: Deranged - Deeds of Ruthless Violence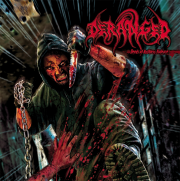 Artysta:
Deranged
Tytuł:
Deeds of Ruthless Violence
Numer katalogowy:
ARcd211
Format:
Limited CD
Gatunek:
Death Metal
Kraj:
Sweden
Data wydania:
2020
Dostepność:
Zamów tutaj
Limitowany do 1000 numerowanych egzemplarzy digipak CD ze slipcase z alternatywną okładką i duża naklejką z UV.
Nowy studyjny album! Lider DERANGED jest perkusista Rikard Wermén, nieprzerwanie od niemal trzydziestu lat. Krótko podsumował nowy krążek: "Ten album jest taki jaki powinien być death metal. Pozbawiony sztuczek, przebrań i charakteryzacji. Intensywny, bezpośredni i gwałtowny". 

DERANGED to weterani gatunku pochodzący z południowej Szwecji. Zespół powstał w 1991, a jego początki zostały zainspirowane flagowymi zespołami wczesnych lat dziewięćdziesiątych, takimi jak Carcass, Napalm Death, Imetigo czy Suffocation. Inspiracje te odzwierciedla muzyka Szwedów - jest to siarczysty i brutalny death metal w starym wydaniu. Ich muzyka wyróżnia się stylem na tle innych Szwedzkich formacji, rozpoczynających swoją przygodę w zbliżonym okresie (takich jak Grave, Entombed czy Dismember). Jest szybsza, techniczna i zawiera naleciałości takich gatunków jak deathgrind czy groove.

"Deeds Of Ruthless Violence" to dziesiąty album DERANGED (następca "Struck by a Murderous Siege" z 2016) i pierwszy album z nowym wokalistą, Johanem Bergström (Visceral Bleeding). Został nagrany w Berno Studio (Amon Amarth, The Crown, Witchery) w Malmö. Okładka albumu, utrzymana w podobnej konwencji co okładka poprzedniego albumu, to zasługa Mika Hrubovcak (Grave, Six Feet Under, Sinister).
Lista utworów:
1. Necro-bulimia interfering afterlife  
2. Engulfed by hate I stab to kill 
3. Level of lividity 
4. Carnal provision for the rotten masses  
5. Through stages of putrefaction 
6. Carried in pain, released by torture 
7. Quarantine required for living entities  
8. I send you half the kidney I took