Wydawnictwa: Hanging Garden - The Garden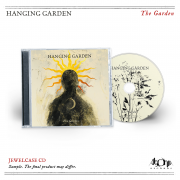 Artysta:
Hanging Garden
Tytuł:
The Garden
Numer katalogowy:
ARcd254
Format:
Jewelcase CD
Gatunek:
Gothic/Doom/Death Metal
Kraj:
Finland
Data wydania:
2023
Dostepność:
Zamów tutaj
Jewelcase CD.
HANGING GARDEN istnieje od 2004. Jego wczesny styl mieścił się w obrębie ciężkiego doom metalu. Po niespełna dwóch dekadach, siedmiu albumach i kilku przetasowaniach w składzie, Finowie obrali kurs na bardziej melodyjne granie i współcześnie brzmienie o mrocznej specyfice, wolne od uprzedzeń i czerpiące z różnych gatunków.
Kompozycje są mroczne, nastrojowe i emocjonalne, a jednocześnie skłaniają się ku otwartej muzykalności. Żeńskie i męskie wokale wpisują się w wielowarstwową osobowość zespołu, nadal głęboko zakorzenioną w muzyce metalowej, która czerpie inspiracje z szeroko pojętej sztuki.
Nowy album - "The Garden" - ma kilka twarzy: potrafi być na przemian delikatny, surowy, diabelski i pogodny. W warstwie lirycznej sięga do duchowych korzeni ludzkości, kontemplując kruchość naszego technologicznego społeczeństwa.
"The Garden", następca "Skeleton Lake" (2021), został wyprodukowany przez Jussi Hämäläinen (wokal, gitary) i Jarno Hänninen. Album został zmiksowany i zmasterowany przez Jarno Hänninen w D-studio (Beherit, Shape of Despair). Okładkę i nowe zdjęcia zespołu wykonał fiński artysta Kalle Pyyhtinen. Na "The Garden" zagrał perkusista Antti Ruokola, ostatnio widziany w HANGING GARDEN siedem lat temu.
Dla fanów Swallow The Sun, Ghost Brigade, October Tide, Katatonii oraz Type 0 Negative.
Utwory:
1. The Garden
2. The Four Winds
3. The Construct
4. The Song of Spring
5. The Fire at First Dawn
6. The Nightfall
7. The Stolen Fire
8. The Journey
9. The Derelict Bay
10. The Fireside
11. The Resolute