Wydawnictwa: Pest - The Crowning Horror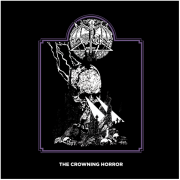 Artysta:
Pest
Tytuł:
The Crowning Horror
Numer katalogowy:
ARcd113
Format:
8-panel digipack CD
Gatunek:
Black Metal
Kraj:
Sweden
Data wydania:
2013
Dostepność:
Zamów tutaj
Nietuzinkowy, 8-panelowy digipack CD.
Długo oczekiwany, najnowszy album Pest. Black Metal starej szkoły. Album pokazuje nowe-stare oblicze Szwedów, którzy powracaja z nowym materiałem w niezwykle dobrej formie. Rekomendacja dla fanów Bathory, Hellhammer, Celtic Frost, Nifelheim czy starszego Deströyer 666.
Lista utworów:
1. The Funeral Hours
2. A Face Obscured By Death
3. Volcanic Eyes
4. Devil's Mark
5. Holocaust
6. The Abomination of the God
7. Thirteen Chimes
8. Demon
9. The Crowning Horror
10. Eternal Curse