Wydawnictwa: Demonical - Servants of the Unlight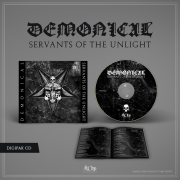 Artysta:
Demonical
Tytuł:
Servants of the Unlight
Numer katalogowy:
ARcd232
Format:
digipak CD
Gatunek:
Death Metal
Kraj:
Sweden
Data wydania:
2021
Dostepność:
Zamów tutaj
De-luxe digipak CD.
Reedycja debiutanckiego albumu Demonical z odświeżoną okładką i szatą graficzną przez Ra-Design (Nightfall, Varathron, Anaeon, etc.). Tłoczono z wykorzystaniem oryginalnych taśm matek!
Utwory

:
01. Suicide Throne
02. Revel in Misanthropia
03. Burned Alive
04. Feeding the Armageddon
05. United in Torture
06. SLlaughter of all Hope
07. Unholy Desecration
08. Leipzig 1945