Wydawnictwa: Tombstone Highway - Rularizer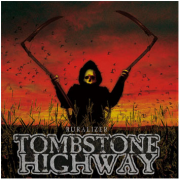 Artysta:
Tombstone Highway
Tytuł:
Rularizer
Numer katalogowy:
ARcd103
Format:
digipack CD
Gatunek:
Stoner/Rock/Doom
Kraj:
Italy
Data wydania:
2013
Dostepność:
Zamów tutaj
Muzyka TOMBSTONE HIGHWAY to zadziorny Stoner/Southern Rock pomieszany z Doom Metalem, uzupełniony o chwytliwe solówki i partie mogące przywoływać na myśl Lynyrd Skynyrd, Corrison Of Conformity, Pride and Glory, Down, Black Sabbath, czy nawet riffy w stylu ZZ Top. Poza Hard Rockowym instrumentarium, grupa posługuje się także banjo oraz organami Hammonda.

Na "Ruralizer" znajdzie się 8 oryginalnych utworów oraz cover Mountain "Mississippi Queen". Łączny czas debiutanckiego albumu to niespełna 50 minut.
Jesli kochacie rock'n'roll, to pokochacie ten album!
Utwór z debiutanckiego albumu:
http://www.youtube.com/watch?v=fStdGMMEASw&feature=youtu.be
http://www.youtube.com/watch?v=3MxU6RvxqxQ&feature=youtu.be