Wydawnictwa: October Tide - In Splendor Below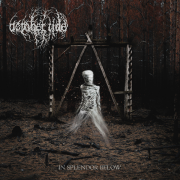 Artysta:
October Tide
Tytuł:
In Splendor Below
Numer katalogowy:
ARcd195
Format:
Limited slipcase CD w/ neklace
Gatunek:
Death/Doom Metal
Kraj:
Sweden
Data wydania:
2019
Dostepność:
Zamów tutaj
 Limitowany do 500 numerowanych egzemplarzy slipcase Cd z alternatywna oprawą graficzna i z metalowym naszyjnikiem z logo zespołu.
Szwedzcy melodyjni death/doom metalowcy OCTOBER TIDE, których szeregi zasilają byli muzycy Katatonii, Fredriko raz Mattias Norrman, wydadzą nowy album zatytułowany"In Splendor Below".

Jest to album"nieco bardziej agresywny, cięższy, bardziej death metalowy i zmieniejszy niż nasze wcześniejsze dokonania"- tłumaczy założyciel i gitarzysta formacji, Fredrik Norrman."Wliczając w to nasz ostatni album, Winged Waltz z 2016" - dodaje.

Oprócz Fredrika, który przez wiele lat grał na giatrze w Katatonii, a obecnie jest także członkiem Thenighttimeproject, skład OCTOBER TIDE tworzą jego brat i gitarzysta Mattias Norrman (również wieloletni członek Katatonii), wokalista Alexander Högbom (Demonical), basista Johan Jönsegård (Letters From The Colony) i perkusista Jonas Sköld(Letters From The Colony/Thenighttimeproject).

Karl Daniel Lidén zmiksował i zmasterował "In Splendor Below" w Tri-Lamb Studios(Bloodbath, Katatonia, Breach, Craft). Alexander Backlund z Nailvillage Studio (Thenighttimeproject / Letters From The Colony) razem z OCTOBER TIDE odpowiadają za jego produkcję. Okładka jest autorstwa Tomarum av Christine Linde.
Utwory:
1. I, The Polluter
2. We Died in October
3. Ögoblick Av Nåd
4. Stars Starve Me
5.Our Famine
6. Guide My Pulse
7. Seconds
8. Envy of the Moon