Wydawnictwa: Varathron - Patriarchs of Evil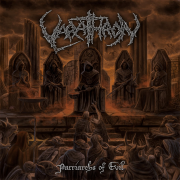 Artysta:
Varathron
Tytuł:
Patriarchs of Evil
Numer katalogowy:
ARCD180
Format:
digipack CD
Gatunek:
Black Metal
Kraj:
Greece
Data wydania:
2018
Dostepność:
Zamów tutaj
---
Digipack CD z książeczką.
VARATHRON powstał w 1988 i jest unzawany za jednego z prekursorów Hellenistycznego odłamu black metalu, obok takich grup jak Rotting Christ czy Necromantia. Jego współzałożycielem, wokalistą i obecnie jedynym oryginalnym członkiem jest Stefan Necroabyssious. Od czau albumu "Crowreign" z 2004 zespół regularnie wydaje nowe płyty. Wspomniany album zaprezentował nowy skład formacji - do Stefana dołączyli Haris (perkusja) i Achilleas C. (gitary), a niedługo później Sotiris (gitary) i Stratos (bass). W takim zestawieniu zespół funkcjonuje do dziś. 

Jak opisuje VARATHRON, następca "Untrodden Corridors Of Hades" z 2014 jest "ciężki, mroczny i pełen melodii przywodzących na myśl dawne czasy". Nagrania, miksy oraz mastering albumu odbyły się w Crown Audio Consipracies, a za produkcję odpowiada Achilleas Kalantzis (aka Achilleas C.). Jedynie perkusja została zarejestrowana osobno, w Infinite Loop Music Studio. Oba studia znajdują się w Grecji, w ojczystym mieście zespołu.

Okładkę "Patriarchs Of Evil" przygotował Juanjo Castellano. Nowe zdjęcia są autorstwa Evi Savva.
Lista utworów:
1. Tenebrous
2. Into the Absurd
3. Luciferian Mystical Awakening
4. Saturnian Sect
5. Remnants of the Dark Testament
6. Hellwitch (Witches Gathering)
7. Orgasmic Nightmares of the Arch Desecrator
8. Ouroboros Dweller (The Dweller of Barathrum)