Wydawnictwa: Forgotten Tomb - Hurt Yourself And The Ones You Love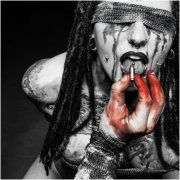 Artysta:
Forgotten Tomb
Tytuł:
Hurt Yourself And The Ones You Love
Numer katalogowy:
ARcd139
Format:
Limited Box CD
Gatunek:
Black / Doom Metal
Kraj:
Italy
Data wydania:
2015
Ściśle limitowany do 500 numerowanych sztuk BOX CD zawierający: ekskluzywne wydanie albumu w plastikowym pudełkul; bonusowy CD z zarejestrowanym koncertem Live at Kings of Black Metal, wisiorek z pociskiem i wysokiej jakości elsatyczną czarną opaske na rękę z logo zespołu.

Mistrzowie negatywnych dźwięków powracają!
"Miks melancholii, groove i black metalu" - tak o nagraniu mówi lider formacji, Ferdinando "Herr Morbid" Marchisio. "Nowe utwory są bardzo ciężkie, zawierają  klasyczne dla Forgotten Tomb elementy oraz nowe pomysły. Nie mogę się doczekać, aż ludzie posłuchają nowego materiału. Ma on dla nas szczególne znaczenie".

Nopwy album został nagrany i zmiksowany w Sound Suite Studios (Marsylia, Francja) z Terje Refsnes'em (Carpathian Forest, Novembre, Gehenna, Destroyer 666) za konsolą. Brad Boatright z Audiosiege Studio (Corrosion Of Conformity, Nails, Vallenfyre, Beastmilk, High On Fire) zajął się masteringiem albumu w Portland (Oregon, USA).
lista utworów:
CD 1
1. Soulless Upheaval
2. King Of The Undesirables
3. Bad Dreams Come True
4. Hurt Yourself And The Ones You Love
5. Mislead The Snakes
6. Dread The Sundown
7. Swallow The Void

CD 1
1. Live at Kings of Black Metal