Wydawnictwa: Varathron - Untrodden Corridors of Hades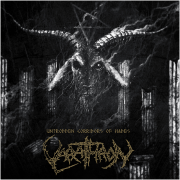 Artysta:
Varathron
Tytuł:
Untrodden Corridors of Hades
Numer katalogowy:
ARcd131
Format:
Limited Box CD
Gatunek:
Black Metal
Kraj:
Greece
Data wydania:
2014
Przedsprzedaż. Artykuł będzie dostepny od dnia 21. listopada.
Najnowy album VARATHRON. "Untrodden Corridors of Hades" został nagrany i zmiksowany przez Kostas'a Kalampokas'a w Infinite Loop Music Studio (https://www.facebook.com/InfiniteLoopStudio) w Grecji oraz zmasterowany przez Tom'a Kvålsvoll'a w Strype Audio (1349, Arcturus, Darkthrone, Emperor, Code, Ulver) w Norwegii. Za oprawę graficzną krążka odpowiada Mark Riddick (Absu, Mystifier, Nun Slaughter, The Black Dahlia Murder).
Rekomendacja dla fanów Necromantia, Rotting Christ oraz Beherit.
Limitowany do 500 numerowanych sztuk boks zawierający: digipack CD z nowym albumem, ekskluzywny bonusowy CD z utworami ze splitów i siemiocalówek Greków, naszywkę ze złotym logo Varathron i plakata formatu A3.

Lista utworów - CD # 1:
01. Kabalistic Invocation of Solomon
02. Realm of Obscure
03. Arcane Conjuring
04. Leprocious Lord
05. The Bright Trapezium
06. Death Chant
07. Delve Into the Past
Lista utworów - CD # 2*:
01. Astrophobos
02. Arwan's Reich
03. Black Swamp
04. Ancient Warrior
05. To Thou Who Contemn The Light
06. The Cult of the Dragon
07. The Tressrising of Nyarlathotep
08. La Reine Noir
09. Outro
Utwór 1 z "Old Demons Rise", split z Den Saakaldte, 2014.
Utwory 2, 3, 4 z "Emissaries of the Darkened Call - Three Nails on the Coffin of Humanity", split z Black Altar i Thornspawn, 2012.
Utwór 5, z "Darkness Has Landed", split z Desolation, 2009
Utwory 6, 7, 8, 9 z "Black Arts Lead to Everlasting Sins", split z Necromantia, 1992