Wydawnictwa: Forgotten Tomb - III: Love's Burial Ground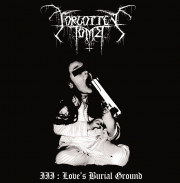 Artysta:
Forgotten Tomb
Tytuł:
III: Love's Burial Ground
Numer katalogowy:
ARlp083
Format:
12" double LP (black)
Gatunek:
Black Metal
Kraj:
Italy
Data wydania:
2015 re-release
Dostepność:
Zamów tutaj
Limitowany do 300 sztuk podwójny czarny winyl + kod do pobrania albumu w wersji cyfrowej.
Reedycja klasycznego, trzeciego albumu, "Love's Burial Ground". Zremasterowana, ponownie zmiksowana, zawierająca odświeżoną szatę graficzną w tym oryginalną, ocenzurowaną w 2004 roku okładkę.
Tak ponowne wydanie skomentował Ferdinando 'Herr Morbid' Marchisio: "Niedawno wróciliśmy do Elfo Studio aby jeszcze raz zmiksować nasz trzeci album, Love's Burial Ground. Był on niedostępny od dłuższego czasu. Czuliśmy, że potrzebował stosownej reedycji, podobnie jak nasze dwa pierwsze krążki. Byliśmy niezadowoleni z kilku aspektów, które znalazły się na oryginalnym wydaniu, więc wprowadziliśmy zmiany do wcześniejszego miksu. Na nowym wydaniu znalazły się wszystkie oryginalne ścieżki, udoskonaliliśmy jedynie brzmienie i zmasterowaliśmy całość. Do tego wprowadziliśmy kilka zmian w tytule albumu i spisie utworów, a także uwzględniliśmy oryginalną okładkę, która w 2004 roku została ocenzurowana. Fani nie będą zawiedzeni, jako że jest to najlepiej brzmiąca wersja Love's Burial Ground, a jednocześnie wierna oryginałowi. Książeczka i grafiki również zostały odnowione i zawierają teraz niewydane wcześniej zdjęcia. W końcu również, album ukaże się po raz pierwszy na winylu, w kilku specjalnych edycjach. To mój ulubiony krążek spośród naszych trzech pierwszych płyt i mam nadzieję, że będziecie zadowoleni z reedycji tak samo jak ja".    

Album został ponownie zmiksowany i zmasterowany przez producenta Danielle Mandelli w Elfo Studio (Włochy). 
Lista utworów:
PSALM I: Malus Videndi Pt. I
PSALM II: Kill Life
PSALM III: Alone
PSALM IV: House of Nostaliga
PSALM V: Malus Videndi Pt. II
PSALM VI: Love's Burial Ground
PSALM VII: Slave to Negativity
PSALM VIII: Forgotten Tomb MMIII
PSALM IX: Malus Videndi Pt. III