Wydawnictwa: Decrepit Birth - Axis Mundi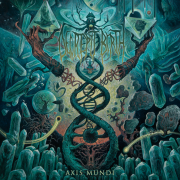 Artysta:
Decrepit Birth
Tytuł:
Axis Mundi
Numer katalogowy:
ARLP145
Format:
12" gatefold black DLP
Gatunek:
Death Metal
Kraj:
U.S.A.
Data wydania:
2017
Dostepność:
Zamów tutaj
Podwójny czarny winyl w gatefoldzie + wkładka z tekstami.
Nadchodzący, czwarty krążek DECREPIT BIRTH, "Axis Mundi", został zarejestrowany w trzech różnych miejscach na przestrzeni roku. Gitary oraz bass w domowych studiach gitarzysty i basisty w USA, natomiast perkusja w Private Ear Studios w Kandzie. Całość zmiksowano i zmasterowano w 16th Cellar Studio (Fleshgod Apocalypse, Hour Of Penance). Autorem okładki jest znany artysta Dan Seagrave (Morbid Angel, Entombed, The Devil Wears Prada).

Tak o nowym albumie mówi gitarzysta, Matt Sotelo: "Przeszliśmy ewolucję na przestrzeni ostatnich lat. Ostatnie albumy, Diminishing Between Worlds i Polarity, to był głównie progresywny death metal. Były inne od ...And Time Begins. Ten ostatni miał  sobie więcej brutalności. Jestem typem człowieka, który lubi eksperymentować. Na Axis Mundi słuchać wszystkie moje inspiracje. Jestem bardzo zadowolony z tego krążka. Jest melodyjny, a same riffy często się powtarzają. Chciałem się dobrze bawić pisząc nowe numery".  
Obecny skład zespołu to Bill Robinson (ex-Suffocation) na wokalach, Matt Sotelo na gitarze, Sean Martinez (ex-Rings Of Saturn, ex-Decapitated) na basie oraz Sam Paulicelli (ex-Abigail Williams, ex-Goatwhore) na perkusji.
Lista utworów:
1. Vortex of Infinity…Axis Mundi
2. Spirit Guide
3. The Sacred Geometry
4. Hieroglyphic
5. Transcendental Paradox
6. Mirror of Humanity
7. Ascendant
8. Epigenetic Triplicity
9. Embryogenesis
10. Orion
11. Desprate Cry
12. Infecting the Crypts