Wydawnictwa: In Mourning - The Weight of Oceans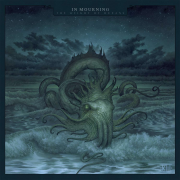 Artysta:
In Mourning
Tytuł:
The Weight of Oceans
Numer katalogowy:
ARlp137_b
Format:
12" gatefold DLP (transparent blue)
Gatunek:
Death/Doom Metal
Kraj:
Sweden
Data wydania:
2016
Limitowany do 125 ręcznie numerowanych egzemplarzy podwójny transparentny niebieski winyl.

Trzeci srudyjny IN MOURNING wydany po raz pierwszy na analogach. Wydanie na licencji od Spinefarm Records. Album z okładką autorstwa Kristiana Wåhlina (Bathory, Tiamat, Amorphis, Dark Tranquillity).
Fani melodyjnego grania zakochają się w tym albumie In Mourning. To samo dotyczy fanów melodyjnego death metalu. Ci, którzy preferują Death Metal, Metal Progresywny, również się na nim nie zawiodą. Trzeci album Szwedów, to koncept kompletny, uniwersalny, który będzie gościł w Waszych odtwarzaczach z dużą częstotliwością. [The Metal Archives]
Utwory:
1. Colossus
2. A Vow to Conquer the Ocean
3. From a Tidal Sleep
4. Celestial Tear
5. Convergence
6. Sirens
7. Isle of Solace
8. The Drowning Sun
9. Voyage of a Wavering Mind