Wydawnictwa: October Tide - The Cancer Pledge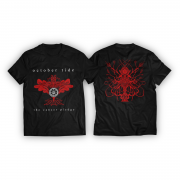 Artysta:
October Tide
Tytuł:
The Cancer Pledge
Numer katalogowy:
ARts319
Format:
T-shirt, model II
Gatunek:
Death/Doom Metal
Kraj:
Sweden
Data wydania:
2023
Czarny T-shirt Gildean Premium.
Wymiary koszulki są dostępne tutaj.
Ostatnie wydania wprowadziły zmiany w muzyce OCTOBER TIDE. Są one kontynuowane na "The Cancer Pledge", zgodnie z kierunkiem obranym przez założyciela i gitarzystę formacji, Fredirka Norrmana (ex-Katatonia, ex-Trees Of Eternity, Thenighttimeproject). "Inspiracji szukałem w płytach, których słuchałem w latach 80-tych i 90-tych, kiedy dorastałem," komentuje Norrman. "To bezpośrednia kontynuacja poprzedniego albumu. Mniej doomu, więcej death metalu. Jest melodyjnie, z większą liczbą warstw. To nadal October Tide."

Muzykę OCTOBER TIDE - melodeath zakrapiany doom metalem - charakteryzuje przewodnia rola gitar, nierzadko opadających w melancholijne i introspekcyjne tony. Zespół powstał w 1994 jako duet, który stworzyli muzycy Katatonii - Fredrik Norrman i Jonas Renske. Od tamtego czasu OCTOBER TIDE przeszedł szereg zmian, w czasie których pielęgnował i rozwijał swoje brzmienie. Obecny skład pozostaje niezmieniony od 2016. Obejmuje gitarzystę i założyciela Fredrika Norrmana, drugiego gitarzystę i brata Fredrika, Mattiasa Norrmana (ex-Katatonia), wokalistę Alexandra Högboma (ex-Demonical), basistę Johana Jönsegårda (Letters From The Colony) oraz perkusistę Jonasa Skölda (Letters From The Colony / Thenighttimeproject).

Album nagrano i wyprodukowano w 2023 przez OCTOBER TIDE i Karla Daniela Lidéna (Bloodbath, Katatonia). Ten ostatni zmiksował i zmasterował album. Okładkę przygotował Albin Högbom.
Utwory:
1. Peaceful, Quiet, Safe
2. Tapestry of our End
3. Unprecedented Aggression
4. Blodfattig
5. The Cancer Pledge
6. I know why I´m cold
7. Season of Arson
8. Breathe the Water