Wydawnictwa: Origin - Unparalleled Universe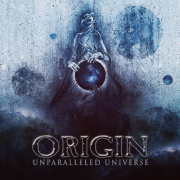 Artysta:
Origin
Tytuł:
Unparalleled Universe
Numer katalogowy:
ARlp151
Format:
12" gatefold black LP
Gatunek:
Death Metal
Kraj:
U.S.A.
Data wydania:
2017
Limitowany czarny.
Najnowszy album ORIGIN "Unparalleled Universe" został zarejestrowany w Chapman Studios w lutym tego roku. Za konsolą zasiadł wieloletni współpracownik grupy, Robert Rebeck (Tech N9ne). Nagranych zostało 10 nowych utworów, wliczając w to cover Brujera "Revolucion", których mastering odbył się w Menegroth - The Thousand Caves (Altar Of Plagues, Jarobe, Karllice) pod okiem Colin'a Marston'a. Za okładkę płyty odpowiada Filip Ivanovic (Dismember, Cryptopsy, Gorguts).
Tak o nowym albumi mówi Paul Ryan: "Unparalleled Universe na pewno brzmi jak album Origin, ale jest bezprecedensowy w stosunku do tego, czego mógłby oczekiwać ktoś zaznajomiony z naszą muzyką, jeśli nie słyszał nas od jakichś 10 - 15 lat. Dla mnie, ten album jest odbiciem nas samych. Porównuje go z kinem akcji. Nasz wcześniejszy materiał jest wypełniony po brzegi akcją. Tym razem, dodaliśmy do niej dodać nieco więcej głębi i urozmaiconej dynamiki. Można powiedzieć, że w naszej muzyce znalazło się kilka zwrotów akcji, ujmując to językiem filmowym". 
Lista utworów:
1. Infinitesimal to the Infinite
2. Accident and Error
3. Cascading Failures
4. Mithridatic
5. Truthslayer
6. Invariance Under Transformation
7. Dajjal
8. Burden of Prescience
9. Unequivocal
10. Revolucion