Wydawnictwa: The Order of Apollyon - Moriah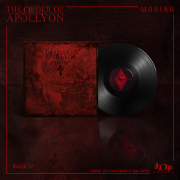 Artysta:
The Order of Apollyon
Tytuł:
Moriah
Numer katalogowy:
ARlp170
Format:
12"LP (black)
Gatunek:
Black/Death Metal
Kraj:
France
Data wydania:
2018
Dostepność:
Zamów tutaj
---
Czarny winyl + kod do pobrania albumu w wersji cyfrowej.
THE ORDER OF APOLLYON powstał w 2008 z inicjatywy ówczesnych muzyków Aborted, BST (również ex-Aosoth, VI) oraz Dana Wilding. Ich debiutancki album "The Flesh" ukazał się w 2010, a kolejny, "The Sword And The Dagger", pięć lat później; oba w barwach Listenable Records. Podczas prac nad drugim albumem skład zespołu uległ gruntownej przemianie. Dan Wilding dołączył do składu Carcass i zarówno on, jak i pozostali muzycy, rozeszli się z powodu niedających się pogodzić harmonogramów. W konsekwencji do BST dołączyli muzycy znani z Francuskiej sceny black/death metalowej, a w tym SR (Hell Militia, Temple Of Baal), AK (Merrimack, Vorkreist, Decline Of The I) i JZ. 

Najnowszy album "Moriah" został po raz pierwszy nagrany w stałym składzie, który w równym stopniu przyczynił się do powstania krążka. Nagrania odbyły się w dwóch studiach: BST Studio oraz Studio de Saint-Loup (perkusja). 
Lista utworów:
1. Τhe Fall of the First Pillar
2. Sorcery and the Apeiron
3. Aeonic Alchemy (Act i)
4. Faustian Ethos
5. The Old Tree and the Wise Man
6. The Alchemists of the Radiant Sepulchre (Act ii)
7. Decline of the West (O  Ιερεας και ο Ταφος)
8. Vita Nuova