Wydawnictwa: Forgotten Tomb - We Owe You Nothing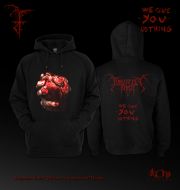 Artysta:
Forgotten Tomb
Tytuł:
We Owe You Nothing
Numer katalogowy:
ARhsw033
Format:
hooded sweatshirt + digital download code
Gatunek:
Black/Doom Metal
Kraj:
Italy
Data wydania:
2017
Ekskluzywna gruba bluza z kapturem.

Bluza marki Fruit of the Loom Heavy Cotton z ekskluzywnym projektem i dużymi, kolorowymi nadrukami.Wymiary bluz są dostępne tutaj.
"We Owe You Nothing" to kolejny krok w ewolucji zespołu, który jeszcze bardziej utrudnia ujęcie muzyki włochów w istniejące ramy. Z łatwością łączą oni dysharmonijny black metal, z którego są znani, z zadziornym doom/sludge metalem, oraz subtelną, nihilistyczną dozą punk rocka.

Pracę nad "We Owe You Nothing" rozpoczęły się już w grundiu 2016 w Big Pine Creek Studio, gdzie zarejestrowana została perkusja, zostały jednak przerwane z powodu wypadku samochodwego wokalisty i gitarzysty, Ferdinando "HM" M. Wypadek wyłączył go z aktywności na kilka miesięcy. Nagrania zostały wznowione i ukończone w maju 2017 w SPVN Studio. Miksami i masteringiem zajął się Chris "Zeuss" Harris (Rob Zombie, Hatebreed, Six Feet Under, Soulfly) w Massachussets, USA.
Lista utworów:
1. We Owe You Nothing
2. Second Chances
3. Saboteur
4. Abandon Everything
5. Longing For Decay
6. Black Overture