Wydawnictwa: Centinex - The Pestilence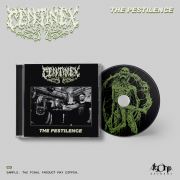 Artysta:
Centinex
Tytuł:
The Pestilence
Numer katalogowy:
ARCD240
Format:
MCD
Gatunek:
Death Metal
Kraj:
Sweden
Data wydania:
2022
Dostepność:
Zamów tutaj
Limitowany do 1000 sztuk MCD z ekskluzywnym bonusowym utworem.
"The Pestilence" oferuje pięć nowych utworów, stanowiących pomost między ostatnim albumem grupy, "Death in Pieces", a nadchodzącymi wydawnictwami. Styl CENTINEX łączy podobieństwa z Demonical, jest jednak mniej melodyjny, surowszy i nastawiony na przewodnią rolę riffów. Obydwa zespoły scala postać basisty, Martina Schulman'a - założyciela i głównego autora piosenek CENTINEX - który tak wypowiada się o epce: "Inspiracje napłynęły do nas przede wszystkim z klasycznej sceny thrash metalowej, głównie tej niemieckiej; choć materiał ten zbliża nas w jakimś stopniu do własnych korzeni i wczesnych dokonań Centinex. Stanowi też nowy kierunek, który w przyszłości będziemy dalej eksplorować. Będziemy grzebać w przeszłości i szperać w historii ekstremalnej muzyki, ponieważ wydają się nam bliższe, niż to co niesie ze sobą współczesny nurt metalu. Postawiliśmy na old-school i organiczne brzmienie, pełne oddechu, tak różne od współczesnych technik nagrywania."
Nagrania, miksy i mastering 'The Pestilence' odbyły się Sellnoise Studios w Szwecji pod okiem Jonasa Arnberg'a. Zdjęcie, który znajduje się na okładce zostało zrobione przez Susan Wicher. Szatę graficzną przygotował Dwi Nugraha.
Utwory:
1. Armageddon
2. Evil is Evil
3. Tremble in Fear
4. Torture
5. Afraid of the Light*

*Bonusowy utwór