Wydawnictwa: Origin - Omnipresent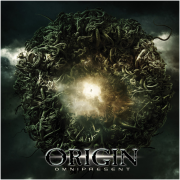 Artysta:
Origin
Tytuł:
Omnipresent
Numer katalogowy:
set110
Format:
Limited Box CD + TS bundle
Gatunek:
Death Metal
Kraj:
U.S.A.
Data wydania:
2014
Ikona technicznego death metalu, ORIGIN, wyda swój najnowszy album zatytułowany "Omnipresent" 4 lipca nakładem Agonia Records. Okładkę albumu autorstwa Colin'a Marks'a (Nevermore, Kataklysm, Exodus).

"Omnipresent" to pierwszy studyjny album nagrany z wokalistą Jason'em Keyser'em (ex-Skinless). Oprócz Keyser'a, na "Omnipresent" usłyszymy znanego z Angelcorpse i Gorguts perkusistę John'a Longstreth'a,  gitarzystę Paul'a Ryan'a oraz basistę Mike'a Flores'a. Tak album opisuje zespół: "Nowa płyta to kulminacja 15 lat technicznego, brutalnego death metalu, który wykracza poza wszelkie definicje."

Krążek został nagrany w  Chapman Recording Studio (US) z udziałem producenta Robert'a Rebeck'a. Miksami zajął się Colin Marston w Menegroth - The Thousand Caves (Altar of Plagues, Krallice, Jarobe).
DRUGIE i OSTATNIE WYDANIE! Limitowany do 500 numerowanych egzemplarzy box, zawierający: digipack z najnowszym albumem, winylową naklejkę z okładka płyty w rozmiarze 12cm x 12cm, nową zielonąnaszywkę z logo zespołu (12cm x 3,5cm) oraz brelok na kluczę z wygrawerowanym logo Origin i z tekstem "Death Metal" wygrawerowanym pod logo + ekskluzywna koszulka.

LISTA UTWORÓW:

1. All Things Dead (posłuchaj!)
2. THRALL:FULCRUM:APEX
3. Permanence
4. Manifest Desolate (posłuchaj!)
5. Absurdity of What I Am
6. Source of Icon O
7. Continuum
8. Unattainable Zero
9. Redistribution of Filth
10. Obsolescence
11. Malthusian Collapse
12. The Indiscriminate
13. Kill Yourself (S.O.D. cover song)