Wydawnictwa: King Parrot - Dead Set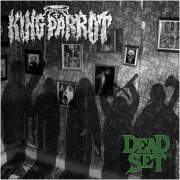 Artysta:
King Parrot
Tytuł:
Dead Set
Numer katalogowy:
ARlp127_pd
Format:
12" picture LP
Gatunek:
Thrash Metal / Grindcore
Kraj:
Australia
Data wydania:
2015
Dostepność:
Zamów tutaj
Limitowany do 200 ręcznie numerowanych sztuk pikczer dysk z wkładką z tekstami, ekskluzywmnym plakatem A2 i kodem do pobrania albumu w wersji cyfrowej.

Drugi studyjny album. KING PARROT stanowi oryginalne połączenie thrash metalu, grindcor i punk rocka. Nowy album formacji został nagrany przez Phila Anselmo (Pantera, Down) w Nodferatu's Lair Studio.
Grupa ma na swoim koncie debiutancki krążek "Bite Your Head Off", który ukazał się w 2012, a rok później został wydany przez Candlelight Records. Do pięciu utworów zostały nagrane teledyski, w tym do kawałka "Shit on the Liver", który został finalistą australijskich nagród muzycznych (Australian Music Video Awards). 

Po 12 miesiącach w trasie, KING PARROT został zaproszony by zagrać na prestiżowym festiwalu SXSW w Teksasie, w marcu 2014. Event został połączony z intensywną trasą koncertową po Ameryce Północnej, obejmującą 45 dat. Zaowocowało to podpisaniem umowy z nowojorskim managementem Extreme Mangement Group. Od tego czasu zespół zagrał jeszcze trzy trasy po nowym kontynencie, w towrzystwie Down, Orange Goblin i Origin. Pojawił się również na Housecore Horrorfest w Austin.

Zyskując uznanie w oczach takich muzyków jak Phil Anselmo, Max Cavalera czy Chuck Billy, nietrudno zaliczyć KING PARROT do grona nowych artystów wartych uwagi. W chwili obecnej zespół stanowi czołówkę sceny metalowej w swojej rodzinnej Australli, gdzie w 2015 zagrał na Soundwave Festival. W marcu 2015 rozpoczęła się pierwsza europejska trasa koncertowa z Weedeater.
TRACKLIST:
01. Anthem Of The Advance Sinner
02. Need No Savior
03. Hell Comes Your Way
04. Like A Rat
05. Tomorrow Turns To Blood
06. Home Is Where The Gutter Is
07. Sick In The Head
08. Punisher
09. Reject
10. Dead Set