Wydawnictwa: Pestilence - Mallevs Malleficarvm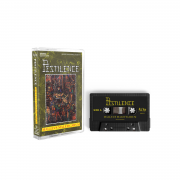 Artysta:
Pestilence
Tytuł:
Mallevs Malleficarvm
Numer katalogowy:
ARMC014
Format:
Tape
Gatunek:
Progressive Death Metal
Kraj:
The Netherlands
Data wydania:
2023
Dostepność:
Zamów tutaj
Limitowana kaseta.
Reedycja zremasterowana w Satanic Audio (Behemoth, Azarath).
"Malleus Maleficarum" (1988) to debiutancki album PESTILENCE.
PESTILENCE rozpoczęło działalność w 1986 w składzie Patrick Mameli (bass, gitara, wokal), Randy Meinhard (gitara) i Marco Foddis (perkusja). Po wydaniu dema "Dysentery" w 1987 dołączył do nich Martin van Drunen (w przyszłości Asphyx), który zastąpił Mameli'ego na wokalach. Świeżo przeformowany zespół wydał drugie demo, "The Penance", a następnie rozpoczął pracę nad "Malleus Maleficarum", który ukazał się we wrześniu.
Album został oryginalnie wydany na kasecie przez RC Records (podwytwórnię Roadracer Records, która później zmieniła nazwę na Roadrunner Records) i uchodzi za klasyczny wzór wczesnego death metalu połączonego z thrashem. Wyprzedził formację Death i jej album "Leprosy" o miesiąc, a także Morbid Angel, którego debiut ukazał się dopiero w 1989.
Pozycja obowiązkowa dla wszystkich fanów PESTILENCE, sięgająca korzeni gatunku i początków legendarnej grupy z Holandii.
Patrick Mameli: "Byliśmy wtedy bardzo młodzi i niedoświadczeni. Staraliśmy się znaleźć swój własny styl. Myślę, że poszło nam dobrze. Album jest bardzo thrashowy z nutami Possessed, Slayer i Infernal Majesty".
Utwory:
1. Malleus Maleficarum / Antropomorphia
2. Parricide    
3. Subordinate to the Domination    
4. Extreme Unction    
5. Commandments    
6. Chemo Therapy    
7. Bacterial Surgery    
8. Cycle of Existence    
9. Osculum Infame    
10. Systematic Instruction