Wydawnictwa: Pestilence - Testimony of the Ancients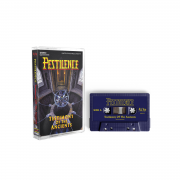 Artysta:
Pestilence
Tytuł:
Testimony of the Ancients
Numer katalogowy:
ARMC016
Format:
Tape
Gatunek:
Progressive Death Metal
Kraj:
The Netherlands
Data wydania:
2023
Dostepność:
Zamów tutaj
Przedsprzedaż. Ten artykuł będzie dostępny od 30. czerwca 2023.
Limitowana kaseta.
Reedycja zremasterowana w Satanic Audio (Behemoth, Azarath).
Po wydaniu ponadczasowego już klasyka "Consuming Impulse" w 1989, PESTILENCE stanął przed koniecznością zastąpienia ważnego członka – wokalisty Martina van Drunena – po jego odejściu do Asphyx. Zespół stanął przed niełatwym zadaniem, biorąc pod uwagę presję, jaka wiązała się z sukcesem "Consuming Impulse". Decyzja o powrocie Patricka Mameli'ego do roli wokalisty nie tylko przetrwała próbę czasu, ale dała również początek charakterystycznemu brzmieniu PESTILENCE. Mameli zdecydował także o porzuceniu gitary basowej, przejmując odtąd podwójną rolę gitarzysty/wokalisty. Na miejsce basisty zwerbował Tony'ego Choya (wówczas z Cyinc), dodając kolejne sławne nazwisko do składu i kolejny punkt zaczepienia dla innowacyjnej natury zespołu. Wraz z Patrickiem Uterwijkiem (gitary) i Marco Foddisem (perkusja) nagrali "Testimony of the Ancients" (1991) w legendarnym Morrissound Studios (USA) pod okiem producenta Scotta Burnsa.
"Testimony of the Ancients" uchodzi za klasykę progresywnego death metalu od twórców gatunku. W porównaniu z trzema pierwszymi albumami PESTILENCE, materiał nie był tak szorstki, muzykalność dojrzała, a techniczna innowacyjność grupy weszła na nowy poziom. W momencie wydania albumu popyt na PESTILENCE wzrósł jak nigdy wcześniej i pociągnął za sobą liczne trasy koncertowe. Szczególną sławą cieszy się występ grupy na Dynamo Open Air z tego okresu.
Patrick Mameli: "Łatka jednego z najbardziej wpływowych albumów tamtych lat po raz pierwszy pozwoliła mi poczuć, że zostałem uwolniony od wpływów innych wielkich death metalowych kapel. Mój styl stał się odtąd swobodną interpretacją moich własnych pomysłów."
Utwory:
1. The Secrecies of Horror    
2. Bitterness    
3. Twisted Truth    
4. Darkening    
5. Lost Souls    
6. Blood    
7. Land of Tears    
8. Free Us from Temptation    
9. Prophetic Revelations    
10. Impure    
11. Testimony    
12. Soulless    
13. Presence of the Dead    
14. Mindwarp    
15. Stigmatized
16. In Sorrow