Releases: Ragnarok - Malediction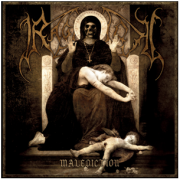 Artist:
Ragnarok
Title:
Malediction
Catalog number:
ARcd106
Format:
CD
Genre:
Black Metal
Origin:
Norway
Release date:
2012
Availability:
Order here
Finally. The long awaited, new studio album of RAGNAROK. One of the oldest and definitelly most respected Black Metal bands hailing from Norway.
10 tracks, over 40 minutes of Norwegian Black Metal. Jewelcase CD limited only to first press!