Releases: Forgotten Tomb - Hurt Yourself And The Ones You Love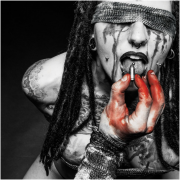 Artist:
Forgotten Tomb
Title:
Hurt Yourself And The Ones You Love
Catalog number:
ARcd138
Format:
digipack CD
Genre:
Black / Doom Metal
Origin:
Italy
Release date:
2015
Availability:
Order here
Regular digipack CD with booklet with lyrics and pictures.

Masters of negativity return!
The new album is a "mix of melancholy, groove and pure malignancy" - as put by band's leader, Ferdinando "Herr Morbid" Marchisio. "We kept the sound very organic and natural, kinda old-fashioned but still very fresh. The new songs are heavy as fuck and they feature our classic trademark plus some new elements. I can't wait for people to listen to it, 'cause it's a really special album for us and probably the most extreme we did in quite a while, both musically and conceptually".

"Hurt Yourself and The Ones You Love" was recorded and mixed in Sound Suite Studios (Marseille, France) with Terje Refsnes (Carpathian Forest, Novembre, Gehenna, Destroyer 666) behind the knobs. Brad Boatright of Audiosiege Studio (Corrosion Of Conformity, Nails, Vallenfyre, Beastmilk, High On Fire) took care of the mastering in Portland (Oregon, USA).
tracklist:

1. Soulless Upheaval
2. King Of The Undesirables
3. Bad Dreams Come True
4. Hurt Yourself And The Ones You Love
5. Mislead The Snakes
6. Dread The Sundown
7. Swallow The Void