Releases: Acrimonious - Sunyata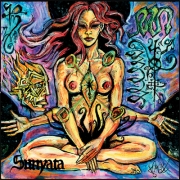 Artist:
Acrimonious
Title:
Sunyata
Catalog number:
ARcd109
Format:
CD
Genre:
Occult Black Metal
Origin:
Grecja
Release date:
2012
Availability:
Order here
Typhonian occult metallers ACRIMONIOUS return with with a new rock-influenced and ritual-driven black metal release, wrapped in a classic heavy metal feeling. Band's second full-length album entitled Sunyata is due to be released on Agonia Records on the 28th November in Europe and 5th February in the USA.

Premier track from the upcoming album is streaming now on YouTube, and is best viewed in HD mode at: http://www.youtube.com/watch?v=cvFiadERAOs
Sunyata comes with an astonishing artwork from Kyle Fite and Vampress Imperium.
The album was recorded, mixed and mastered in Sitra Ahra and Unreal Studios with the assistance of Necromorbus Studio (Watain, Adorior, Ondskapt, Destroyer 666).
ACRIMONIOUS is strongly recommended for fans of old Mayhem, early Morbid Angel, Dissection, Necrovore, old Slayer, Mortuary Drape, Nifelheim, Malign and Iron Maiden.