Releases: Varathron - The Confessional of the Black Penitents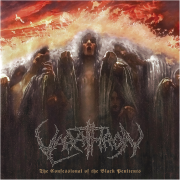 Artist:
Varathron
Title:
The Confessional of the Black Penitents
Catalog number:
ARmcd018
Format:
ekopak CD
Genre:
Black Metal
Origin:
Greece
Release date:
2015
Availability:
Order here
Limited to 1000 numbered copies ekopak CD.
Greek black metal legends, VARATHRON, are gearing up to release a new seven-track EP, called "The Confessional Of The Black Penitents". Itfeatures three brand new tracks and four songs recorded live, with a total playing time of 40 minutes.
The live tracks were recorded in Larisa (Greece) on the 16th of May, 2015 and mastered by Achilleas Kalantzis (guitars). Tracks 2 & 3 have been recorded and mixed at Infinite Loop Music Studio (Greece) and mastered by Tom Kvålsvoll at Strype Audio (1349, Arcturus, Darkthrone, Emperor, Code, Ulver) in Norway.

The front cover artwork and layout include paintings by Carlos Schwabe (July 21, 1866 - 22 January, 1926); a Swiss Symbolist painter and printmaker.

The band commented: "Infernal warriors we salute you! The Abyssic Black Cult strikes again! "The Confessional... " is the closing chapter of "Untrodden.." era. Featuring 3 brand new tracks of amazing occult atmosphere. For the first time we also include 4 live tracks from our show in Greece in 2015. Classic masterpieces from the dark past like "Unholy Funeral" and "Cassiopeia's Ode" will be unleashed upon you"!
Tracklist:
01. The Confessional Of The Black Penitents
02. Sinister Recollections
03. Utter Blackness
04. Unholy Funeral* 
05. Cassiopeia's Ode* 
06. Descent Of A Prophetic Vision* 
07. Kabalistic Invocation Of Solomon*
* recorded live