Releases: Enthroned - Sovereigns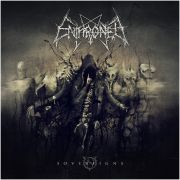 Artist:
Enthroned
Title:
Sovereigns
Catalog number:
ARcd125
Format:
digipack CD
Genre:
Black Metal
Origin:
Belgium
Release date:
2014
Availability:
Order here
The return of the Belgian black-hearted emissaries is imminent. So is their aim to tame the unbridled black-art of metal. Critical acclaim of the former landmark "Obsidium" has only proven, that even the highest regard is not enough to bind the hands of an sovereign individual. With arms long enough to embrace the unknown and grasp the throat of excellence, Enthroned stands strong as never before. "Obsidium" sows the seed of perfection. The exquisite craftsmanship of "Sovereigns" sows the seed of transcendence!
New album available on a noble digipack CD!
Track list:
1. Anteloquium;
2. Sine Qua Non;
3. Of Feathers and Flames;
4. Lamp of Invisible Lights;
5. Of Shrines and Sovereigns;
6. The Edge of Agony
7. Divine Coagulation;
8. Baal al-Maut;
9. Nerxiarxin Mahathallah

Upcoming releases
Upcoming shows
DEMONICAL
08/Jul/2020
Paris, Le Klub, FR

DEMONICAL
09/Jul/2020
Toulouse, L?Usine A Musique, FR

DEMONICAL
10/Jul/2020
Chevenez, Forest Fest, CH

ORIGIN
10/Jul/2020
In Flammen Open Air, GER

DERANGED
10/Jul/2020
Malmö @ GOROFEST @ PLAN B, SE

DEMONICAL
11/Jul/2020
Torgau, In Flammen Open Air, DE

ORIGIN
18/Jul/2020
Obscene Extreme Festival, CZ

CENTINEX
24/Jul/2020
Enter the Eternal Fire Festival, CZ

DEMONICAL
25/Jul/2020
Weil Am Rhein, Baden in Blut Festival, DE

ORIGIN
25/Jul/2020
Stonehenge Festival, NL


---