Releases: Opera IX - Strix Maledictae in Aeternum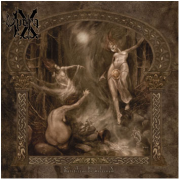 Artist:
Opera IX
Title:
Strix Maledictae in Aeternum
Catalog number:
ARlp086d
Format:
12" double LP (gold)
Genre:
Epic Black Metal
Origin:
Italy
Release date:
2012
Availability:
Order here
First album of Opera IX in 7 years!

With Strix Maledicte In Aeternum, Opera IX wants to analyze all those visions that came from the darkest times of humanity, the medieval ages. Spirit of witchcraft and darkness is present among the songs, giving the whole a less epic touch, but much more symphonic, direct and agonizing, making this album a lustful journey throughout the deepest and most macabre desires of man.

Cover artwork by renowned artist Kris Vervimp (Enthroned, Marduk); Mastered at Necromorbus Studio in Sweden by Tore Stjerna (Destroyer 666, Watain); First videoclip promoting this album is to be seen here:
http://www.youtube.com/watch?feature=player_embedded&v=puiHt2wF3iE


Limited to 100 copies double gold vinyl.

All orders placed by the 22nd of December will be dispatched till 23rd of December. All remaining orders will be shipped starting from 17th of January. Orders including OPERA IX digipack CD will be shipping from 9th of January only.