Releases: Blaze of Perdition - Conscious Darkness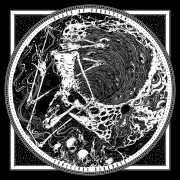 Artist:
Blaze of Perdition
Title:
Conscious Darkness
Catalog number:
ARlp152
Format:
12" gatefold black LP
Genre:
Black Metal
Origin:
Poland
Release date:
2017
Availability:
Order here
Regular black vinyl in gatefold sleeves + booklet + a digital download code.

Through a loss of a friend and a near-death experience, the band found strength to let the feelings deepen into music and record a reflective album, "Near Death Revelations". The group's creative yet methodical approach gave birth to a dark, enigmatic unity, that continues to mature and explore the genre more and more, with "Conscious Darkness" being their latest offering.
The recordings of "Conscious Darkness" were completed this June, with final mixes and mastering done at Satanic Audio Studio, and cover artwork drawn by Karmazid. Layout was prepared by Kontamination Design.
Tracklist:
1. A Glimpse of God
2. Ashes Remain
3. Weight of the Shadow
4. Detachment Brings Serenity