Releases: Origin - Unparalleled Universe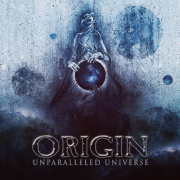 Artist:
Origin
Title:
Unparalleled Universe
Catalog number:
ARlp151
Format:
12" gatefold black LP
Genre:
Death Metal
Origin:
U.S.A.
Release date:
2017
Limited black viny in gatefold sleeves.

For 20 years, ORIGIN has engaged a full-blown sensory assault of tight, taut, and technical death metal amplified by flashes of grindcore and groove. However, 2017's "Unparalleled Universe" sees the quartet - Paul Ryan (guitar, vocals), John Longstreth (drums), Mike Flores (bass, vocals), and Jason Keyser (vocals) - strengthen that blueprint with a handful of surprises.
"It feels like an Origin album, but it's unparalleled to what you might expect if you haven't heard us for 10 or 15 years" says Ryan. "To me, it's a true reflection of ourselves. I compare it to an action movie. Our earlier material is filled with action from beginning to end. Now, the idea is to add a little more depth and dynamics. You could say there are some twists in the plot musically".
"Unparalleled Universe" was recorded and mixed at Chapman Studios in February 2017 alongside longtime collaborator and engineer Robert Rebeck (Tech N9ne). The band emerged with ten new songs including a cover of Brujeria's "Revolución", that were mastered in March 2017 by Colin Marston at Menegroth - The Thousand Caves (Altar of Plagues, Jarobe, Krallice) and wrapped in a cover prepared by Filip Ivanovic (Dismember, Cryptopsy, Heavy Montreal, Gorguts).
Tracklist:
1. Infinitesimal to the Infinite
2. Accident and Error
3. Cascading Failures
4. Mithridatic
5. Truthslayer
6. Invariance Under Transformation
7. Dajjal
8. Burden of Prescience
9. Unequivocal
10. Revolucion