Releases: Varathron - Patriarchs of Evil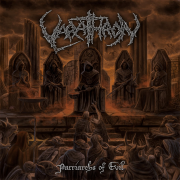 Artist:
Varathron
Title:
Patriarchs of Evil
Catalog number:
ARlp162
Format:
12" gatefold black LP
Genre:
Black Metal
Origin:
Greece
Release date:
2018
Availability:
Order here
---
Limited black vinyl in gatefold sleeves with insert with lyrics + digital download.
Co-founded in 1988 by Stefan Necroabyssious, the band's vocalist and sole original member, VARATHRON has been on a steady release schedule since 2004's "Crowreign". The latter album introduced Haris (drums) and Achilleas C. (guitars) to the band, who were later joined by Sotiris (guitars) and Stratos (bass), and who together established a new, well-bonded line-up of an already established Hellenic black metal act, considered as one of the forefathers of the genre, next to Rotting Christ and Necromantia.  

Having previously described "Patriarchs Of Evil" as "heavy, dark and full of melodies that will revive past memories", VARATHRON elaborates on the successor to "Untrodden Corridors Of Hades" (2014), now that the recordings have come to an end: 

"The time has come to deliver our new opus 'Patriarchs of Evil'. A sinful sip of this unholy communion will lure you into an astral journey of absurd dimensions - with an awakening smell of the old era. This album is one of the finest pieces Varathron has ever unleashed. We promise a true heavy, blasphemous and unique masterpiece with Necroabyssious delivering his best performance ever. With glorious riffs, profound melodies and a solid rhythm section, this dark testament is to delve into. The time of the rejuvenation has come!! WE ARE FOREVER IMMORTAL!!".

"Patriarchs Of Evil" was recorded, mixed and mastered over the course of 2017 by Achilleas Kalantzis  (aka Achilleas C.) at Crown Audio Conspiracies, except for drums which were recorded at Infinite Loop Music Studios. Both studios are based in VARATHRON's hometown of Ioannina, Greece. The album's artwork and layout were designed by Juanjo Castellano. New band photos were taken by Evi Savva. 
Tracklist:
1. Tenebrous
2. Into the Absurd
3. Luciferian Mystical Awakening
4. Saturnian Sect
5. Remnants of the Dark Testament
6. Hellwitch (Witches Gathering)
7. Orgasmic Nightmares of the Arch Desecrator
8. Ouroboros Dweller (The Dweller of Barathrum)