Releases: Proscriptor McGovern's Apsû - Proscriptor McGovern's Apsû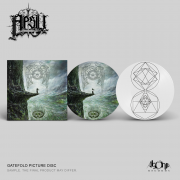 Artist:
Proscriptor McGovern's Apsû
Title:
Proscriptor McGovern's Apsû
Catalog number:
ARlp206_PD
Format:
12" gatefold PD w/ booklet
Genre:
Occult Metal
Origin:
U.S.A.
Release date:
2021
Availability:
Order here
Limited to 500 hand-numbered copies picture disc vinyl in gatefold sleeves with 20 pages, 12" x 12" booklet with lyrics and additional illustrations by Zbigniew Bielak exclusively. In addition digital download code.
When drummer/vocalist Proscriptor McGovern (Russ R. Givens) dissolved Absu on January 27th 2020, his main intention was to splinter the 30-year old faction into a renewed songwriting concord. Proscriptor McGovern's Apsû is the obvious by-product of that chemical breakdown, which constitutes a new incarnation and direct continuation of Absu's legacy. Securing the ranks, alongside McGovern, are continuing bassist/vocalist Ezezu (Absu: 2008-2020), new guitar virtuoso Vaggreaz (Possessed, Gruesome) and keyboardist Vorskaath (Zemial, Agatus). Since Absu's last, unreleased album was to be penned as "Apsû," McGovern fused the title with his name to form the group. With this much anticipated, self-titled album, McGovern's objective was to append the signature sound of "mythological occult metal," but to convolute it with bouts of psychedelia, fusion and vintage electronics.
Written for those who are curious and unwearied in their quest of arcane knowledge, the album was chronicled at studios around the world with final mixing handled in Dallas, Texas by both McGovern and J.T. Longoria (Absu, King Diamond, Solitude Aeternus) and mastering by Swedish Grammy nominee Karl Daniel Lidén in Sweden. The album also features guest appearances from Ross Friedman (Ross The Boss, ex-Manowar), Rune Eriksen (Aura Noir, Vltimas,ex-Mayhem), Alex Colin-Tocquaine (Agressor) and The Dark (Agatus). To assemble the album's packaging with eight separate portrait illustrations, the band has re-commissioned the expertise of renowned Polish artist Zbigniew Bielak (Darkthrone, Portal, Watain).
TRACKLIST:
I. Amenta: Accelerando: Azyn including Hierophantasmal Expounder
II. Esoterically Excoriating The Exoteric
III. Quasaric Pestilence
IV. Mirroracles
V. In-Betweeness Gateway Commuters
VI. Jupiter In Capricornus
VII. Dedicated To Thoth, But Azathoth Wasn't Listening (A Necroloquy)
VIII. Caliginous Whorl
IX. The Coagulating Respite
X. Prana: Therion: Akasha
XI. Tantrums Of Azag-Kkû
XII. Every Watchtower Within Is The Axis Of A Watchtower Without including Totemic Thresholds