Releases: King Parrot - Dead Set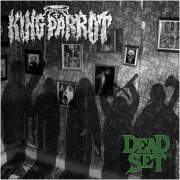 Artist:
King Parrot
Title:
Dead Set
Catalog number:
ARlp127_pd
Format:
12" picture LP
Genre:
Thrash Metal / Grindcore
Origin:
Australia
Release date:
2015
Availability:
Order here
Limited to 200 hand-numbered copies picture disc. Comes with insert with lyrics, A2 poster and digital download code.

Long awatied 2nd studio album. Hailing from Melbourne, the band released their debut album "Bite Your Head Off" in 2012, which gained high praise for its stand-out musical performance layered with black humour and nowadays rare, yet unique creativity. KING PARROT's upcoming new album was recorded by Phil Anselmo (Pantera, Down) in Nodferatu's Lair Studio and is set to land this spring via: Agonia Records in Europe, Housecore Records in North America and Rocket/EVP in Australia.
Emerging through the baptism of fire of the Australian metal scene, KING PARROT have pillaged their way to international recognition in a short period since 2011. Drawing influence primarily from the thrash, grind, hardcore and punk scenes of the 80's and 90's, a new sound was created fusing those styles and attitudes with a fresh approach that encapsulates their aggression, humour and intensity seamlessly.

The debut album "Bite Your Head Off" was picked up by Candlelight Records in 2013 for worldwide release. Five videos from their debut album have been produced including "Shit on the Liver"; a finalist in the Australian Music Video Awards and the bands take on the legendary horror film The Shining for the track "Dead End".

After a solid 12 months on the road solidifying the bands presence in their homeland in 2013, KING PARROT were invited to perform at SXSW in Texas in March of 2014. They coupled this with an extensive 45-date North American tour, which saw them land a management deal with Extreme Management Group in New York. They've since under taken a further 3 North American tours alongside Down, Orange Goblin and Origin, as well as appearing at the Housecore Horrorfest in Austin, Texas.
TRACKLIST:
01. Anthem Of The Advance Sinner
02. Need No Savior
03. Hell Comes Your Way
04. Like A Rat
05. Tomorrow Turns To Blood
06. Home Is Where The Gutter Is
07. Sick In The Head
08. Punisher
09. Reject
10. Dead Set